In praise of glorious denim! We are living in a perfect time when the comfort of denim has been combined with classic styling and incredible, delirious colors! Runways have denim in classic blues with a touch of purple and celebrities abound donning the latest pastel shade jeans.
Spring and summer are bringing pastel, Easter egg colors to our favorite denim wear. While some may seemed shocked that they move the dark blue jeans to the back of their closets, others are embracing the yellows, pinks, turquoise and champagne tones.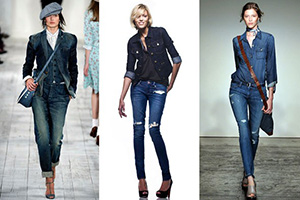 The cut and style of these delicious denim creations are also available to accent your body type. Ankle jeans are all the craze, but for those that have a shapely look to the body, it's advised that you avoid any of the jeans that have a lot of high cut pockets. Those can make your derriere appear larger than it is. Best cut for you are those that have pockets that start on the outside area of your derriere 'cheeks'. For the more slim and less curved figure, choose your best pastel shade and go for the high waisted, that will highlight your slim figure. For those of us that are short, the cropped jeans will make us look even shorter, so lean more towards the longer length, non-cropped in a mid-rise. If you are the athletic type, your calves and legs may reflect more muscle. You want to accent length more than width, so flared or straight full length will give your legs a longer look. For the petite, you need a style that doesn't end up with that 'saggy' look. Stretch denim for petites will keep its shape and find those that have back pocket embellishments.

As you replace your dark blues with the pastel colors, you will need to remember the rule-of-thumb: dark tones can slim and pastels can make you appear heavier. You need to remember your body shape and wear your colors as part of the outfit, but you may need to layer or pull the focus to other parts of the body. The mix of turquoise and varying shades of blue and lavender/purple are a recommended color palette. You can dress this up or down with lace, silk, cotton and jackets. Skinny jeans, in the various rainbow colors might be your best choice, but don't give up on the distressed and torn look for your dress-down days. Wide-leg and high-waisted will give you a casual, long-legged appeal. While being comfortable.
Jeans jackets in all of their fame have made a return to the runway. Whether dressed to the nines with brocade, buttons and embellishments, all the way to distressed, torn, bleached and worn; the jeans jacket in short cropped styling is appearing in a myriad of colors and styles. The same goes for the boy-look denim shirt. Chambray remains a popular choice, but combined with the pastel jeans and a brilliant colors in bag and shoes, the look is both daring and glamorous.
Other fashion recommendations for the year include the denim rompers. These are a delight, because they can be fun and playful and are perfect for so many occasions. Thankfully, designers have brought the romper to another level with pastels and gorgeous touches of lace and embroidery.
Sources: http://www.shefinds.com/2013/how-to-wear-springs-pastel-denim-trend-no-matter-your-jean-size/
http://www.harpersbazaar.com/fashion/fashion-articles/denim-trends-blue-jeans-0510