When they say that your wedding day lives forever, it is absolutely true. The typical time spent in planning your even can take from three months to a full year, and even then, you always feel like you may have missed something. The first question that usually arises is 'so, what are your colors'? This show stopping question can actually make or break your wedding day, depending upon the colors you have chosen.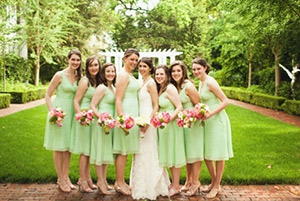 While traditional colors are always safe, today's wedding has opened up a broader scope of color choices, options, selections and combinations. True, you should probably stick with colors that are easy to match, because there are going to be a lot of 'things' that you will need to match to. The first piece of advice is to not select colors that are so 'out there' that you have to order everything from Europe or Asia. Use the basic greens, blues, lavender or purple, pinks or yellows. Mint is a hot color for this year and combines so well with other colors. You can even combine grays, champagnes, black and reds for a bolder statement. These are all relatively good choices and some have had fun with them. One wedding had traditional colors, but the guys all wore red sneakers and the ladies red shoes. There are those that may want to go a bit bolder by selecting orange. Be very careful with this one. I can tell you from attending an orange, grey and black wedding, that it had a bit of a disturbing feeling of being Halloween. One of the most popular trends today is to do a 'green' wedding. This may start with shades of green, but the true meaning is to have a wedding day that brings a low environmental impact. The transition from throw away to recycle/reuse is a topic that everyone is buying into. The use of various green tones as your wedding colors is the bases, and every choice that you make from that point on equates to being respectful to the planet and Mother Nature.
Purple and lavender are two exceptional colors for your wedding. They can be combined with white, black or grey and can be used as a two-toned effect. The color purple reflects the concept of royalty (as does blue) and can elevate your day into a more glamorous and dramatic affair.
Brown, tan and off-white is often the choice of those that lean toward a more earthy flavor to their wedding. This is also a great benefit, it you have added touches of chocolate (in all its varying shades). Neutral shades can be combined with ever so light champagnes and suddenly browns and tans have a rich look and feel to them. Having all of the right touches with browns can include nature: from earth friendly invitations to small birds nest style table accents.
Creating a look and statement for your wedding begins with the type of wedding you want and always starts with the colors you choose. You also have to remember that the men in your life have to abide by these color choices, so it might be a good idea to talk about it first.
Source: Source: http://wedding.theknot.com/wedding-colors.aspx