You want to look absolutely delicious for that evening out and girl, you are living in the right time to make your fashion statement. We have returned an era of the glamorous but with a twist to today's modern and upbeat appeal and will turn your night into an event with the perfect evening colors.
The colors and combinations for evening wear this year are all about the shades of jewels. Black may be the mainstay for evening, but the dark rich blues, hot reds, royal purples and emerald greens are the basis for the classic styling of the glam look of Hollywood. The other color that has made its way back is the pale champagne. Seen on many of the Red Carpet stars, you need to make sure you have the skin tone for this, because it can make you a star or wash you out. Sensual necklines as well as sleeveless is the name of the game, with a touch of ruffle or ribbon.
Some of today's evening colors and outfits have combined the playful with the elegant. This is usually seen on the shorter designs, with patterns and tones in blues and purples on a base of
white. Others are black, with incredible metallic and woven patterns, giving a three dimensional look.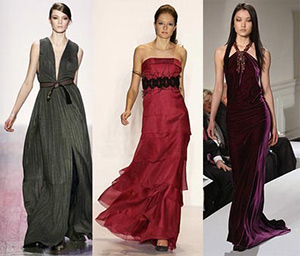 The door is open to patterns, but some seem to have taken the traditional black lace and stepped it up a notch. More evening wear is offering lace cut outs, encrusted lace and silk tull. Metallic fibers, gently woven into the lace or embroidery is another way to make you shine, because it gives you that glossy, polished look. There are some excellent dresses that have combined the more bold geometric repeat patterns with conventional lace.

The length of your dress is completely up to you. You can have floor length for a dramatic effect, but the most popular this year is just above the knee. Accessories are also hot and antique jewelry has made a comeback. Remember to coordinate a subtle accessory if you have a bold outfit, each one must balance the other out. Your purpose and goal is to get the maximum impact, so if you have a lot of sequins or beads, tone down the jewelry, clutch and shoes.
Transparent fabrics can be a wonderful way to go out for the evening and express your inner 'you'. Anything that has a hint of silky luster, polished mother of pearl or iridescence, will sparkle in the moonlight. Since these fabrics are usually pastel, the favorites this year are the blues combined with lavenders and even pink or apricot. A dramatic evening jacket or throw will give you that air of glamour with a playful appeal.
As with all fashion advice, shoes and bag can be the high tone or downfall of your evening outfit. Depending on the look you are seeking, it is usually advised to go with a simple clutch and elegant shoes. If the outfit is subdued, you can make the move to create a special look with iridescent in both pieces. They should, of course, match.
Sources: http://www.fashionpatterns.com/download/Predictive_Spring_2013.pdf
http://www.squidoo.com/holidaywear