This year we are looking to summer with absolute envy. The thought of warm days, basking by a beach or pool or an evening on the town is absolutely embraced as we happily leave the dull winter days. Nothing says summer like the colors of the tropics, and these are the hottest shades for the year.
The combination of greens, oranges and peach-tones are already being seen in every showing. Green shades, like lime green or kiwi green invoke the senses. When combined with fresh peach or orange, we envision everything from our favorite tropical drink to a summer picnic.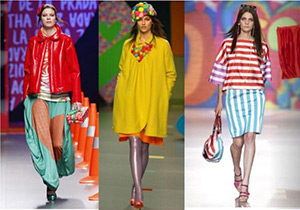 There are some summer color combinations that are destined to be maintained. These include the classic red, white, navy blue and black. From traditional and tie dyed, to saucy and sleek, the patterns and shades are a mainstay of summer. The fabrics can change from silk to denim; Asian inspired to linen; and the patterns run from hot to cool.

The summer look is also all about the prints. Geometric, floral, stripes and polka dots and all of the variations in between are being mixed and matched for a modern look and appeal. The exotic is also hot, so don't forget to check out the East Indian influences with the intricate patterns and leaf prints.
Summer simply wouldn't be the same without the crushed and crumpled look of cotton and seersucker. You started with some of those in spring and they can be carried through into summer with the pale pastels complimented with a linen jacket. Shades of pink and pale lavender in silk are also enhanced with touches of polished metallic. Many of these are also tie dyed, but today's tie dye brings a more upbeat attitude, especially in shades of blue.
We can never forget our earth tones, when we talk about summer. The palette for these colors are influenced by the earthy touches and colors of Thailand, India, Africa and Asia. Color combinations can start with earthy brown-tones and are enhanced with rustic orange, gold and red. When they say 'the devil's in the details' they must have been including fashion in this topic, because the latest unique buttons, brocades, belts and weaves can be the additions that turn heads.
Denim, in summer is a given; but we are no longer stuck in the world of just-the-blues. Denim fashion is now available in colors, pastels and patterns and in heavy, light and stretch denim. There is no better combination than shades of blue with the added touch of purple. There are some hot looks for a traditional shirt in grays and blues, as the anchor piece for a sharp jacket.
The look and feel of your summer wardrobe can be a statement of your own with your favorite colors, patterns and fabrics. You can take spring into summer, without breaking the bank, and have a layered look that can be great for a day out shopping all the way to going to that concert. Color combinations give you the choice of being demure all the way to daring.
Source: http://www.fashionpatterns.com/download/Predictive_Spring_2013.pdf