Pairing the right colors always seemed to be a kind of common sense thing, but today, those ideas are completely old school. The hottest runway looks have colors combined that our mothers would never have thought of.
The hottest designers are putting a new look with fabrics and colors. Some of the hottest color combos go from chocolate brown and slate blue to emerald green and turquoise. If you are more into the girly-girl look, with a hint of wow, try white combined with ice pink. The 'ice' is a bit of a shimmer, either metallic or polished. If you want less fem, than add a touch of black to round it out.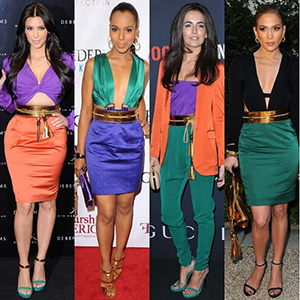 Two colors that have never really been paired together before, but bring an incredible edge are burgundy and burnt orange. When you think of it, you might have a grimace on your face, but when you actually see them together, with shoes and a bag, it is a total statement.
For both spring and summer, the combination of coral and mustard yellow are a bit of sunshine in your day. Whether patterns or solid, these two colors combine into a delicious appeal to the senses. Taking the tropical look into other colors includes orange, gray and white. The orange is the pizzazz, bringing any neutral tone into focus. Fabrics for both seasons can be light and airy, cottons, silks and silk-blends work the best.

If you're not sure which color or color combinations you should be looking for, you might want to consider the top ten colors for 2013: a vibrant green-yellow tone called tender shoots; a hushed and subtle green with a hint of gray called grayed jade. Sophisticated and glamorous emerald green is perfect for day and evening wear. African violet has a hint of red, so it pairs well with all the red tones and makes a splash on any outfit. Always sexy, poppy red, you can match clutch and shoes to create an uptick look. The citrusy effect of nectarine blends orange with an undertone of coral. A brighter than bright yellow called lemon zest also has a hint of green in it. The calming effect of dusk blue, can be paired with the excitement of nectarine. For a neutral color, 'linen' is perfect and blends with almost everything. Monaco blue works with reds as well as emerald green. This last color is also total elegance. The brilliance of the blue catches and detains the eyes so that it can be used as an accent color or stand alone.
For the savvy shopper, you will also want to think ahead to see what is going to work for your fall and winter wardrobe. Some of the same burnt orange and poppy red can be paired with blacks, dark greens and browns for fall. Neutrals with a splash of color are perfect for winter (or vice versa). Since everything is all about layering, the spring to summer can be easily adjusted, and then add more layers for fall to winter.
Sources:
http://www.fashionpatterns.com/download/Predictive_Spring_2013.pdf
http://www.harpersbazaar.com/fashion/fashion-articles/new-color-blocking-runway-spring-2013
http://pinterest.com/vonda/clothing-color-combinations/
http://channels.isp.netscape.com/homerealestate/package.jsp?name=fte/springcolors/springcolors