The sixties were an explosion of color, patterns, design, art, music and personal statements. They blasted onto the scene with a generation more than happy to leave the neutral-tone fifties and bring in flower power, peace and luv. Never before had a time erupted with such a splash. This year, the runway is filled with visions of the sixties with a twist for today.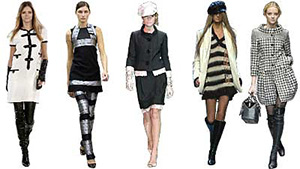 The word on the runway is 'Femail' and that has been expressed from Paris to London, New York to Milan. The sixties era styling has returned with a vengeance, bringing with it the upswept hair styling, the large, geometric patterns and jewelry and the colors….oh, the colors. Brilliant combinations of colors on a white background include yellows, blues and greens, with a touch of black. And of course, there are flowers. Today's sixties look uses a base look, with a touch of the flowers from days gone by. Sizzling neon colors in combination pairing of pale lime and raspberry sherbet bring an uptick look to the sixties style. For a more classic, minimal look, the Chanel style crop top in tantalizing tangerine pattern is the perfect focus for a work a day outfit. Complimented with a simple white top and tangerine pants or skirt, this brings the sixties into today's fashion world.
We can never forget the graphic patterns known as op-art. Typically black, white and grey, the new look incorporates a more three dimensional appeal with metallics and florescents. The newer sheen fabrics are hot items, as they have a kind of oil-slick look and are fantastic in solid colors with a layered appeal. Short to mini and even long on the skirt lengths is totally appropriate and even invited.
The exotic prints are back to stay and are incorporating every motif from Egyptian to African. The neutral and earth tones are boring no more, as we see animal prints, brocades, khaki, bangles, beads and furs. Exotic buttons are some of the embellishments to look for, as they are becoming more of an art piece than ever before. Matching bags, clutches and even klunky shoes are the perfect accessories.
The pencil skirt made a major appearance on this year's catwalks. The always sexy and sensual skirt has the added touch of a bit of a slit (and sometimes more than that). More designers are pairing a solid neutral pencil skirt with an oil-slick top and a black jacket for the biz look. An incredible and intricately designed belt acts as an off-set to blend it all together and give a very modern sixties look for work. Another great work look is the classic tailored in charcoals, grays, and blacks. These are more of the unisex look and make use of silks and satins to highlight the top or belt area. Blurring the gender lines are both fun and fanciful, but it's the jackets that make the outfit. Short cropped and longer to the upper thigh are being seen everywhere, but always tailored to the max.
Source: http://www.dailymail.co.uk/femail/fashion/article-2251106/A-Z-2013s-hottest-style-trends.html