How did you get into fashion design?
It all started from my love of art and being creative, I have always spent lots of money on my clothing, and thought that I wanted to be apart of a Multi-Billion dollar industry myself.
Describe your philosophy about the art of fashion
Clothing is a necessity, Everyone has to wear clothing, But today we have options to wear different types of clothing…Clothing is a great form of art and expresses every ones creative side. I believe it's hard to deny a good fashion design, That's why I am very focused on designing the best art for my brand as possible.
What about fashion as a business?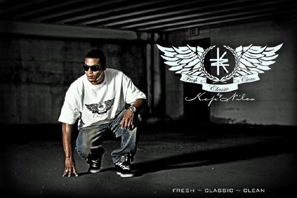 The fashion Industry is a Multi-billion dollar a year industry
I think it's a wonderful industry to be involved in because I was once told that if you can create a product that there is a necessity for in the world, and if you're good at it….with persistence, there is a possible chance that you can be very successful.
What skills do you need to be a fashion designer?
The fashion industry is 90% business & 10% design. Knowing how to run and maintain a business, from day to day transactions, customer service to accounting –Most importantly having passion for what you do will get your over the bumps in the road, without passion it's very easy to just give up.
What advice do you have for a young woman/man who wants to be a fashion designer?
Persistence, Make sure you have a passion to be a fashion designer, because it takes time and many mistakes to see some success as a fashion designer. Work for other fashion houses or designers, because you'll make mistakes on someone else's money, not yours.
What inspires your designs?
Music, Art, different cultures…most of all, everywhere I look, I get inspired by something or someone.
What was your inspiration to start your clothing line?
I was always really good at art and after I took a marketing class, and in that class I had a project, the project required us to make a product as if it were a real product in the market.
It inspired me to proceed with starting my own line…but most of all it would allow me to be creatively artistic everyday, and make a very nice amount of money that could finance everything I've ever wanted in life….with a lot of hard work and perseverance , my chances would be very great.
When did you start designing your line?
2002 that's when I came up with my logo, But my designs changed and evolved over the years.
What is your target demographic?
I am not really targeting any specific demographic – because my brand is open to all sorts of groups or cultures, such as the Premium groups, to the street culture and everything in between.
Where can our readers find your clothing line?
We had our line in a few retail stores and do to the economy, they were having trouble, so we decided to sale our clothing online, until the economy picks back up, for now you can go towww.kepnilesclothing.bigcartel.com
What other products other the your current t-shirt line do you have?
We offer everything from Fitted Hat's, Polo's, Crew neck sweat shirts, Sweat Suits to Hoodies. We also offer Women Tees and Hoodies.
What is your focus and plan for the urban fashion world of Salt Lake City?
My goal is to bring World Wide attention to our Brand and the more and more our Brand gets out there, it will open people's eyes to the fact that it doesn't matter where you're from to be a very successful clothing designer and to have a successful clothing company. Maybe one day someone from here can say that Kep Niles Clothing paved the way for us to make a statement world wide.
I would like to say Thank you to everyone here in Salt Lake City that has supported our brand.
With great support from everyone here, I don't see any reason why it wouldn't bring National acclaimed recognition not only to our brand but also to our city.