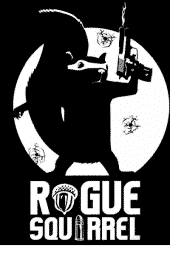 Rogue Squirrel based out of Leesburg, VA is a fairly new line, that has steadily been gaining traction over the past year. Started by four designers – Joe Carter, Rich Edmondson, Brian Enciso, and Aaron Hopkins, the brand's eye-catching and distinctive designs result in apparel which people can relate to, both in style and personality.
In addition to their current line of designer apparel, Rogue Squirrel is also selling commemorative shirts dedicated to Sean Taylor of the NFL Redskins, who passed away in November of 2007. All proceeds from these limited edition shirts will be donated to Joe Gibbs Youth For Tomorrow and the Sean Taylor Memorial Fund.
Rogue Squirrel's merchandise has been showcased at various events including this year's "Circles 9," an event showcasing the elements of hip hop culture, at James Madison University.
To check out Rogue Squirrel's merchandise, visit their webpage at www.roguesquirrel.com. You can also find their contact information on the site, or you can drop them a line at their myspace.